Daily Reading:
Monday August 16th/29th
11th Week After Pentecost
TRANSLATION OF THE ICON NOT MADE WITH HANDS OF OUR LORD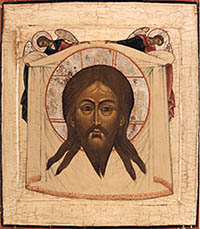 + + +

In the name of the Father, and of the Son, and of the Holy Spirit:


Illumine my heart, O Master who lovest mankind, with the pure light of Thy divine knowledge. Open Thou the eyes of my mind to the understanding of Thy Gospel teachings. Implant also in me a love for Thy blessed commandments. Grant me the grace to overcome all my carnal desires, so that I may enter more completely into a spiritual manner of living, both thinking and doing such things as are well pleasing to Thee. For Thou art the illumination of our souls and bodies, O Christ our God, and unto Thee do we ascribe glory, together with Thine all-holy, good and life-creating Spirit; now and ever and unto the ages of ages. Amen.

O Lord Jesus Christ, open Thou the eyes of my heart, that I may hear Thy word and understand and do Thy will, for I am a sojourner upon the earth. Hide not Thy commandments from me, but open mine eyes, that I may perceive the wonders of Thy law. Speak unto me the hidden and secret things of Thy wisdom. On Thee do I set my hope, O my God, that Thou shalt enlighten my mind and understanding with the light of Thy knowledge, not only to cherish those things which are written, but to do them; that in reading the lives and sayings of the Saints I may not sin, but that such may serve for my restoration, enlightenment and sanctification, for the salvation of my soul, and the inheritance of life everlasting. For Thou art the enlightenment of those who lie in darkness, and from Thee cometh every good deed and every gift. Amen.

By the intercessions of Thine All-immaculate Mother and of all Thy Saints, Lord Jesus Christ, our God, have mercy on us and save us. Amen



Monday

LITURGY

2 Corinthians 2:4-15


For out of much affliction and anguish of heart I wrote unto you with many tears; not that ye should be grieved, but that ye might know the love which I have more abundantly unto you. But if any have caused grief, he hath not grieved me, but in part: that I may not overcharge you all. Sufficient to such a man is this punishment, which was inflicted of many. So that contrariwise ye ought rather to forgive him, and comfort him, lest perhaps such a one should be swallowed up with overmuch sorrow. Wherefore I beseech you that ye would confirm your love toward him. For to this end also did I write, that I might know the proof of you, whether ye be obedient in all things. To whom ye forgive any thing, I forgive also: for if I forgave any thing, to whom I forgave it, for your sakes forgave I it in the person of Christ; Lest Satan should get an advantage of us: for we are not ignorant of his devices. Furthermore, when I came to Troas to preach Christ's gospel, and a door was opened unto me of the Lord, I had no rest in my spirit, because I found not Titus my brother: but taking my leave of them, I went from thence into Macedonia. Now thanks be unto God, which always causeth us to triumph in Christ, and maketh manifest the savour of his knowledge by us in every place. For we are unto God a sweet savour of Christ, in them that are saved, and in them that perish:


Matthew 23:13-22


But woe unto you, scribes and Pharisees, hypocrites! for ye shut up the kingdom of heaven against men: for ye neither go in yourselves, neither suffer ye them that are entering to go in. Woe unto you, scribes and Pharisees, hypocrites! for ye devour widows' houses, and for a pretence make long prayer: therefore ye shall receive the greater damnation. Woe unto you, scribes and Pharisees, hypocrites! for ye compass sea and land to make one proselyte, and when he is made, ye make him twofold more the child of hell than yourselves. Woe unto you, ye blind guides, which say, Whosoever shall swear by the temple, it is nothing; but whosoever shall swear by the gold of the temple, he is a debtor! Ye fools and blind: for whether is greater, the gold, or the temple that sanctifieth the gold? And, Whosoever shall swear by the altar, it is nothing; but whosoever sweareth by the gift that is upon it, he is guilty. Ye fools and blind: for whether is greater, the gift, or the altar that sanctifieth the gift? Whoso therefore shall swear by the altar, sweareth by it, and by all things thereon. And whoso shall swear by the temple, sweareth by it, and by him that dwelleth therein. And he that shall swear by heaven, sweareth by the throne of God, and by him that sitteth thereon.

+ + +

TRANSLATION OF THE ICON NOT MADE WITH HANDS OF OUR LORD JESUS CHRIST FROM EDESSA TO CONSTANTINOPLE
HOLY MARTYR DIOMEDES THE UNMERCINARY HEALER


Troparion of the Holy Icon Tone 2
We worship Thine immaculate image, O Good One,/ and ask the forgiveness of our sins, O Christ our God;/ for of Thine own will Thou wast pleased to ascend the Cross in the flesh,/ to deliver from slavery to the enemy those whom Thou hadst created./ Therefore we thankfully cry to Thee:/ Thou hast filled all things with joy, O our Savior,/ by coming to save the world.

Troparion of the Feast Tone 1
In giving birth thou didst preserve thy virginity;/ in falling asleep thou didst not forsake the world, O Theotokos./ Thou wast translated to life, O Mother of Life,/ and by your prayers you deliver our souls from death.

Troparion of St Diomedes Tone 1
O Diomedes, as a healer of bodily sickness,/ by the word of truth thou didst grant healing to souls./ Thou hast received this gift from God/ and dost ever help those suffering from various diseases./ Thou art radiant with the grace of martyrdom;/ wherefore thou savest those who cry to thee:/ Glory to Him Who has glorified thee; glory to Him Who has crowned thee;/ glory to Him Who through thee works healings for all.

Kontakion of the Holy Icon Tone 8
The uncircumscribable word of the Father/ was circumscribed when He took flesh of thee, O Mother of God;/ and when He had restored the defiled image to its pristine state He suffused it with divine beauty./ And as we proclaim our salvation we record it by word and deed.

Kontakion of the Feast Tone 2
Neither the tomb nor death could hold the Theotokos,/ who is sleepless in her intercessions and an unchanging hope in her mediations./ For as the Mother of Life she was transferred to life/ by Him Who dwelt in her ever-virgin womb.

Kontakion of St Diomedes Tone 6
Thou wast skilled in the science of healing/ and didst wisely choose the lot of holy athletes;/ thou didst openly preach Christ our God,/ O blessed Diomedes, thou adornment of unmercenary saints,/ the protector of those crying to thee:/ Become the physician of us thy servants, O wise one.