Daily Reading:
Friday October 23rd/November 5th
23rd Week After Pentecost
HOLY APOSTLE JAMES THE BROTHER OF THE LORD,
FIRST BISHOP OF JERUSALEM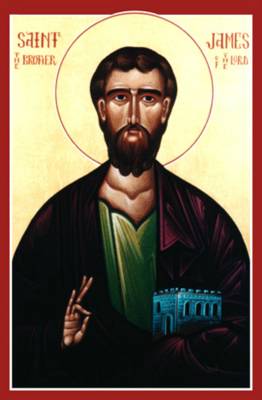 In the name of the Father, and of the Son, and of the Holy Spirit:
Illumine my heart, O Master who lovest mankind, with the pure light of Thy divine knowledge. Open Thou the eyes of my mind to the understanding of Thy Gospel teachings. Implant also in me a love for Thy blessed commandments. Grant me the grace to overcome all my carnal desires, so that I may enter more completely into a spiritual manner of living, both thinking and doing such things as are well pleasing to Thee. For Thou art the illumination of our souls and bodies, O Christ our God, and unto Thee do we ascribe glory, together with Thine all-holy, good and life-creating Spirit; now and ever and unto the ages of ages. Amen.



O Lord Jesus Christ, open Thou the eyes of my heart, that I may hear Thy word and understand and do Thy will, for I am a sojourner upon the earth. Hide not Thy commandments from me, but open mine eyes, that I may perceive the wonders of Thy law. Speak unto me the hidden and secret things of Thy wisdom. On Thee do I set my hope, O my God, that Thou shalt enlighten my mind and understanding with the light of Thy knowledge, not only to cherish those things which are written, but to do them; that in reading the lives and sayings of the Saints I may not sin, but that such may serve for my restoration, enlightenment and sanctification, for the salvation of my soul, and the inheritance of life everlasting. For Thou art the enlightenment of those who lie in darkness, and from Thee cometh every good deed and every gift. Amen.
By the intercessions of Thine All-immaculate Mother and of all Thy Saints, Lord Jesus Christ, our God, have mercy on us and save us. Amen

+ + +

1 Thessalonians 2:14-19
F or ye, brethren, became followers of the churches of God which in Judaea are in Christ Jesus: for ye also have suffered like things of your own countrymen, even as they have of the Jews: Who both killed the Lord Jesus, and their own prophets, and have persecuted us; and they please not God, and are contrary to all men: Forbidding us to speak to the Gentiles that they might be saved, to fill up their sins alway: for the wrath is come upon them to the uttermost. But we, brethren, being taken from you for a short time in presence, not in heart, endeavoured the more abundantly to see your face with great desire. Wherefore we would have come unto you, even I Paul, once and again; but Satan hindered us. For what is our hope, or joy, or crown of rejoicing? Are not even ye in the presence of our Lord Jesus Christ at his coming?


Luke 11:23-26
"He that is not with me is against me: and he that gathereth not with me scattereth. When the unclean spirit is gone out of a man, he walketh through dry places, seeking rest; and finding none, he saith, 'I will return unto my house whence I came out.' And when he cometh, he findeth it swept and garnished. Then goeth he, and taketh to him seven other spirits more wicked than himself; and they enter in, and dwell there: and the last state of that man is worse than the first."


+ + +

HOLY APOSTLE JAMES THE BROTHER OF THE LORD, FIRST BISHOP OF JERUSALEM



Troparion Tone 4
Thou hast received the Gospel as a disciple,/ thou art invincible as a martyr,/ and bold as the Lord's brother,/ thou dost intercede as a hierarch./ O righteous James, pray to Christ our God that He may save our souls.

Kontakion Tone 4
God the Word, only-begotten of the Father,/ came to us in the last days./ He has made thee first shepherd and teacher of Jerusalem/ and a steward of spiritual mysteries./ we honour thee, O Apostle James.
+ + +
The Holy Apostle James, the Lord's Brother
He is called 'the Lord's brother' because he was the son of righteous Joseph, the betrothed of the most holy Mother of God. When Joseph was dying, he shared out his goods among his sons and wanted to leave a share to the Lord Jesus, the Son of the most holy Virgin Mary, but his sons opposed this, not reckoning Jesus to be a brother of theirs. James, though, loved Jesus greatly and announced that he would include Him in his share, counting himself to be indeed brother to the Lord. James was, from the first, devoted to the Lord Jesus. According to tradition, he went to Egypt with the most holy Virgin and Joseph when Herod tried to kill the new-born King. As soon as he heard Christ's teaching, he began to live by it. It is said that, during the whole of his life, he ate neither fat nor oil, but lived only on bread and water, and he was chaste to the end of his days. He often kept a vigil of prayer at night. The Lord included him among his Seventy apostles, appearing to him after His glorious Resurrection, as the Apostle Paul testifies (I Cor. 15:7). He was bishop in Jerusalem for thirty years, and governed the Church of God with zeal. On the Lord's instructions, he composed the first Liturgy, which was far too long for later Christians and was shortened by St Basil and St John Chrysostom. He brought many Jews and Greeks to the Christian faith, and even unbelieving Jews marvelled at his justice, nicknaming him James the Just. When Ananias became High Priest, he decided, along with other of the Jewish elders, to kill James as a preacher of Christ. One day, at Easter, when many people were gathered in Jerusalem, the elders told him to climb up onto a roof and speak against Christ. St James climbed up there, and began to speak to the people about Christ as the Son of God and the true Messiah, and of His Resurrection and eternal glory in heaven. The infuriated priests and elders cast him down from the roof, and he was badly injured though still alive. A man then ran up and gave him such a vicious blow on the head that his brains spilled out. Thus this glorious apostle of Christ died a martyr's death and entered into the Kingdom of his Lord. James was sixty-three years old when he suffered for Christ.



The Prologue From Ochrid -
of St. Nikolai (Velimirovic) Bishop of Zhicha